Drexel University and Cook For Your Life Team Up
Cook For Your Life (CFYL), a New York City-based non-profit organization that teaches healthy cooking to people touched by cancer, is launching their first outpost at Philadelphia's AstraZeneca Hope Lodge. The program is run by founder Ann Ogden and will be facilitated by Drexel University's Center for Hospitality and Sport Management. The unique partnership will expand the program from its base.
Two-time cancer survivor Ann Ogden founded CFYL in 2007. After going through her own cancer treatments, Ogden realized the impact cooking healthy food could have on both alleviating side effects and promoting a healthy survivorship from cancer. It became her mission to turn dietary advice from doctors and dieticians into practical recipes that would empower patients, caregivers, and survivors to eat better and cook their way through treatment and into survivorship.
Cook For Your Life began in New York City by offering free healthy cooking classes in conjunction with the cancer centers of local hospitals. In 2009, with generous support from private donors, and in collaboration with the American Cancer Society's Hope Lodge NYC, Ogden was able to expand the program to offer regular free monthly classes open to patients, survivors and caretakers dealing with all types of cancers. CFYL has also collaborated in NIH/NCI funded research projects and Ogden is a peer reviewed and published co-author on several papers resulting from this work. CFYL now has hundreds of recipes and a website that serves as a platform for free education and ongoing support.
Jonathan Deutsch, Ph.D., professor and director of Drexel University's Center for Hospitality & Sport Management, is a former board member of CFYL. Deutsch learned firsthand the importance of nutrition through treatment when his father was diagnosed with cancer in 2012. Now a pillar of the Philadelphia food scene, Deutsch was inspired to bring CFYL to Philadelphia.
Deutsch recognized that Philadelphia is the ideal place to expand the program: it's the east coast's healthcare epicenter, and home to countless top chefs and a burgeoning food scene, while the Drexel Food Lab, part of his nationally acclaimed program, is at his fingertips. The Drexel Food Lab is an interdisciplinary research group that aims to solve real-world problems in the areas of recipe development, product development and product ideation. He has commissioned the lab to lead CFYL in its Philadelphia edition; professors and students are at the helm of the program, having developed over 100 new recipes for use.
Deutsch also recognized the perfect leader for the new chapter: Ana Caballero, a cook at Philadelphia's a.kitchen an adjunct professor at Drexel will be the Chef Instructor for CFYL. At the age of 24, Caballero was diagnosed with ovarian cancer.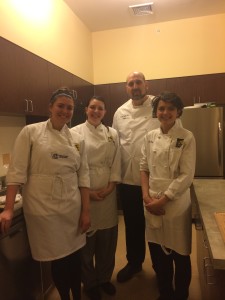 Drexel students in the food lab are working with Caballero on developing recipes and teaching the classes. Ally Zeitz, a senior at Drexel and food lab manager, is working alongside her classmate Heather Krick, a junior majoring in nutrition. If the program is successful, it can continuously be passed down to other students in culinary arts. The value of this partnership is symbiotic – endless students mean limitless potential for the program, while CFYL offers students real world experience.
On March 19th, Cook For Your Life kicks off at the AstraZeneca Hope Lodge. Caballero, Zeitz and Krick will lead 10-12 patients and caregivers in a three-course cooking class – the menu may include Herbed Ricotta Cornbread, Napa Cabbage Salad, Vegetarian Chili and Chocolate-Tofu Pudding – followed by a community-wide dinner open to all Hope Lodge guests.
The classes will continue once a month for a year, in addition to quarterly community dinners. Organizers hope this is the first of many CFYL outposts across the country – with additional support, the program can flourish in all 50 Hope Lodge locations. For more information on the program, please visit http://hsm.drexel.edu/du/foodlab/cook-for-your-life-classes-at-hope-lodge/.
#CookForYourLife #CFYL #Drexel #Healthycooking #Cancer #Cooking #NeffKnows