Philadelphia Distilling To Expand And Make Fishtown New Home
Philadelphia Distilling, Pennsylvania's first craft distillery since before Prohibition, announced that it will be moving from Northeast Philadelphia to the historic Ajax Metal Building at 1000 Frankford Avenue this fall. The 125-year-old building will also house Live Nation's The Fillmore – a premiere music venue. The addition of the distillery marks a pivotal moment on the Delaware River waterfront.
The distillery, which produces premium craft spirits including Bluecoat American Dry Gin, Bluecoat Barrel Finished Gin, Vieux Carre Absinthe, THE BAY Seasoned Vodka and Penn 1681 Vodka will move into the expanded space – gaining 15,000 additional square feet. The new space will boast a tasting room, bottle shop, event space, restaurant and outdoor patio – making it an ideal destination for locals and tourists alike.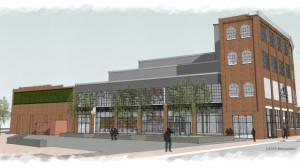 "We're excited to share our award-winning spirits with thousands of Philadelphians and visitors," says President and Co-Founder Andrew Auwerda.
"We look forward to contributing to the city's burgeoning food, drink and cultural scene."
Upon opening, tastings and guided tours will be offered several times a week. We encourage you to follow along for updates and behind-the-scenes photos on Philadelphia Distilling's Facebook, Twitter and Instagram.
In conjunction with this exciting announcement, Philadelphia Distilling has also hired several crucial new team-members to support their rapid expansion: Director of Marketing – Mike Carollo, Christopher Chamberlain – Portfolio Manager & Beverage Development Specialist, Jenna Gill – PA Market Manager and William Burke – Director of Sales and Distribution.