Scarcity vs. Sales
In today's economy it's hard not to see the benefit of a good sale. Even if you're someone who is generally oblivious to the fiscal cliff, it certainly registered when your first paycheck from 2013 came through. Holding off until those boots go down to 30% off suddenly seems like a great idea.
From both the perspective of the consumer and the retailer – sales seem to be mutually beneficial.However, holiday retail sales were a huge disappointment for 2012. Not only did they come nowhere near where they were projected to be but they showed the slowest growth since their initial decline on the heels of the 2008 financial crisis. It should have retailers scratching their heads about the benefit of huge sales like Black Friday and Cyber Monday.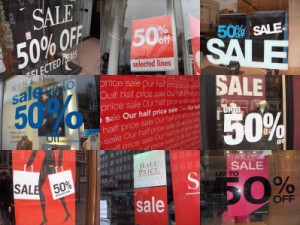 Active-wear heavyweight Lululemon takes a different approach. Not only have they developed a line that is beautiful and functional but also a brand that is synonymous with a lifestyle their customers want. Their products are also, in a word, expensive. Cute, stylish yoga pants are pretty seasonless, right? So why not get something from last year in their sale section? The answer is because you can't. Lululemon sells 95% of their inventory at full-price. Even when their numbers aren't where they want them to be, it's a strategy they'll never stray from.
In addition to a lack of discounts and sales, they don't open many new stores or use software to gather shopper data. But how do they get customers without these types of marketing promotions? Lululemon focuses on their patron's shopping habits by having their workers listen to their likes and complaints in-store, rather than using "big data" which gives a "false sense of security, according to CEO Christine Day. Day personally spends six hours a week herself doing drop-ins at a variety of locations to observe shoppers and use their feedback.
However, the biggest and simplest sales tactic used by Lululemon is to sell to their niche through scarcity.
"Our guest knows that there's a limited supply, and it creates these fanatical shoppers," said Day to The Wall Street Journal.
In general, it works. In the last nine quarters, over the course of three years, the company's sales have rose 30% or more from the year before; in the last year their stock has doubled. Lululemon uses the basic economic principle of supply and demand and it's so simple, that it just might work.