Success Depends on Leadership
Effective, efficient teamwork is the cornerstone of any good business. And the cornerstone of any successful team is good leadership—men and women who understand how to push their teammates and bring out the best in those around them. Whether dealing in-house or with outside partners, companies depend on good leaders, not just to get the job done but, to get the job done well.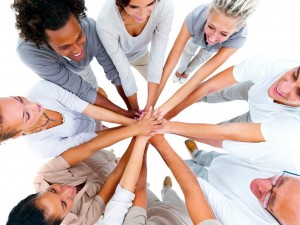 Here are 4 steps you can take today to become a better leader in the workplace:
Say Good Morning
The last thing you want as a leader is someone who feels they can slack off or disengage. So don't let them! Say hello in the morning. Make sure every team member feels involved and appreciated. When each member feels like an integral part of the unit, team morale improves. Improved morale translates into improved performance.
Keep an Eye Out
Good leaders learn as much as possible about their teammates—their strengths and weaknesses, hopes and worries, even their interests. Keep an eye out for anything one of your teammates might find useful or interesting. If you find something, send it their way! Attach a short personal note like, "hey, thought you might like this." Show them they're on your mind, and that you're willing to help them however, whenever.
Say Thank You
When a teammate or partner does a good job, let them know! Try sending a handwritten thank you or congratulations to show you're appreciation. They will want to do their very best for you again in the future.
Stay in Touch
It's critically important to keep your teammates plugged in. Steady communication helps keep the unit organized and focused. Teammates need to know who is doing what, and how they can help each other. Nobody is in this alone! Regular email correspondence to discuss questions, concerns, offer feedback and brainstorm is an effective way to build constructive working relationships. Oh, and be sure to hit "reply all" for messages relevant to the group. You don't want to make anyone feel left out!
Follow these steps to make sure you and your teammates are performing at your peak!
This information originally appeared in a Business News Daily post by Deborah Sweeney.