CITY OF HOPE FIGHTS WOMEN'S CANCERS DURING 5K WALK ON SATURDAY, SEPTEMBER 13th
The staggering fact that one in three women will be diagnosed with cancer in her lifetime is something we cannot ignore. On Saturday, September 13, 2014, this harsh reality will unite survivors and supporters during the 17th annual Women's Cancer Walk by City of Hope Philadelphia. The Women's Cancer Walk is a national movement that unites survivors and supporters—women, men and children—in the fight against women's cancers. This year, the Walk is dedicated to Gi Cunningham. Cunningham was diagnosed with breast cancer in 2000 and became a staunch supporter of City of Hope, raising thousands of dollars. Cunningham is remembered fondly by many, who look forward to walk in her memory.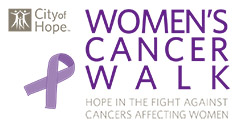 The walk is a great opportunity to raise funds for continued groundbreaking research, treatment and education at City of Hope and to raise overall awareness for breast and gynecologic cancer. "For hundreds of thousands who face women's cancers each year, hope is a precious thing," said City of Hope Philadelphia Senior Director of Development Harry Giordano. "These mothers, daughters, sisters and wives count on places like City of Hope, where award-winning care offers the chance to overcome disease and innovative research cultivates new, better therapies on the path to cures."
A parade of purple will fill the streets with an outpouring of hope as the walkers travel from Campbell's Field (401 Delaware Ave., Camden), across the Benjamin Franklin Bridge, to Arch Street Meeting House (320 Arch St., Philadelphia). Registration, t-shirt pick-up, team photos, hair streaking, survivors' tent and healthy snacks will begin festivities at 8:00am. Fitness instructors from SWEAT Fitness will lead group warm-ups and stretching, followed by the dedication ceremony. The Walk will officially start at 10:00am with stops for snacks, family fun and a Mummer's performance scattered throughout.  Adults can register for $25 and $15 for children (12 and under) at www.womenscancerwalk.org. Walkers are welcome to register individually or as a team. Awards will be given to the top fundraisers.
Women's Cancer Walk is organized by City of Hope Philadelphia with support from platinum sponsor Sweat Fitness, as well as Old City District. This cause is near and dear to me, as my mother didn't survive her battle with cancer," said Old City District's Brett Mapp. "Additionally, it is great to see that the walk will end in Old City District after taking walkers on a tour of the neighborhood. I am thrilled to also see our businesses like Sweat, and Arch Street Meeting House embracing this important cause."
Walk registration is open now at www.womenscancerwalk.org. For more information, call 800-344-8169 toll free (or 215-985-0869), follow @CityofHopePhila on Twitter and like City of Hope Philadelphia Office on Facebook. Share the story of why you walk by using the hashtag #whyiwalk on Twitter.