HOLY SHRIMP!
Greensgrow Farms and Rex 1516 Present a Southern-Style Shrimp Boil to Benefit the Greensgrow Community Kitchen
Greensgrow Farms, the area's nationally recognized leader in urban farming, will be hosting a good old-fashioned shrimp boil on Saturday, August 16, to raise funds for the Greensgrow Community Kitchen! Philadelphia's home for Southern-inspired cuisine, Rex 1516, is a proud sponsor of the event – Chef Justin Swain will be commanding the kitchen, along with Chef Carolynn Angle of Standard Tap. The southern-style feast will include sustainably, wild caught Louisiana shrimp, corn, potatoes and sausage, dirty rice, and summer fruit cobbler. Vegetarian options will be available. Philadelphia Brewing Company will be on hand and on tap.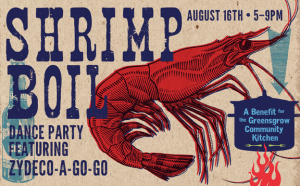 There will be live music from Zydeco-A-Go-Go!, and a raffle – local restaurants, businesses, vendors and artists have donated gift cards for the winners. The featured raffle prize is "An Evening with Mary," Greensgrow's illustrious founder and former chef, who will host a dinner party in her home.
"Greensgrow is at the center of Philadelphia's most dynamic food producers and businesses," said Chef Justin Swain. "I'm thrilled to bring my food to such a great event and to support such a worthy cause."
 The Greensgrow Community Kitchen is a bustling culinary center that serves as a business incubator and demonstration kitchen. Community members hone their skills in everything from canning, fermenting and bread baking to cheese making, while chefs from some of Philadelphia's best kitchens host cooking classes. It is home base for some of the region's most innovative, delicious and sustainable mobile vendors, and has given a leg up a talented group of clients and instructors that have gone on to success with projects of their own.
The event will take place from 5:00 pm to 9:00 p.m. at Greensgrow Farm, 2501 E. Cumberland Street. Tickets for dinner, dessert and live music are $40 per person; the VIP ticket, which includes reserved seating for dinner, happy hour catered by Greensgrow Community Kitchen tenants and Little Baby's Ice Cream, a Greensgrow pint glass and a limited run Philadelphia Brewing Company Beer, are $60 per person.
For more information, visit greensgrow.org/shrimpboil.