Is The New Instagram Logo A Marvel Or Mistake?
'Did you see their Instagram?' said (insert name of everyone you know here).
Instagram has taken social media by storm, ever since its launch back in October of 2010, and has grown to be one of the most popular mobile photo-sharing social networks ever. From the very beginning, it was obvious that Instagram was going to be a hit because it accumulated over 1 million users in just two short months after its launch. Fast-forward to September 2015, and Instagram toppled 400 million users! It goes without saying that the social network is extremely popular and has a cult-like following where users can transform their mediocre mobile photos into an artistic, almost-professional looking image by using filters.
Instagram has gone through some changes throughout the years, where the most notable was being acquired by Facebook in April 2012, which summed up to a deal approximately worth $1 billion in cash and stock. Since that time, Instagram users upload roughly 80 million photos per day, which certainly brings the total upload count into the tens of billions.
Among all the changes that have occurred during the relatively short lifetime of Instagram, many users were up in arms over the recent algorithm change that rearranges their photo feed from chronological order to a feed that prioritizes their relevant interests. It follows suit after Facebook made the same change some time ago to prioritize status updates based on the users' interest. While many Instagram users are less than thrilled with their 'new and improved' photo feeds, there's something else that puts the icing on the cake…and that's the new logo.
Going Viral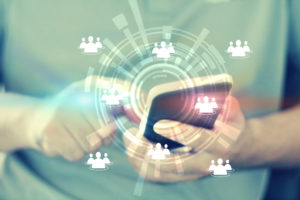 Instagram debuted the new logo on May 11th, 2016 that sent shockwaves across the internet. People tweeted, posted and ranted about their distaste for the new logo and that brings up the question: is the re-design a marvel or a mistake? We're not quite sure if Instagram chose the right logo and branding services to re-design the logo but only time will tell if they will revert back to their original skeuomorphic icon of their beloved camera that everyone is asking for.
According to an Instagram blog post, they ditched the old camera icon for the new 'flat design' symbol to symbolize the growth in popularity of the photo-sharing service and it "reflects how vibrant and diverse your storytelling has become." Whether the real intention of the updated logo was to truly reflect the changing times of the service, it really comes down to this reality: they've got everyone's attention.
The updated logo definitely strummed up a massive amount of media attention that can really only benefit Instagram. The attention has given Instagram an even brighter spotlight that increases their brand awareness and you got to hand it to them, it was a smart tactic. When brands make dramatic changes, it can work towards their advantage. While that's not to say that a brand has to reinvent the wheel, but when they can come up with a creative way to get more exposure, it can really go a far way in terms of awareness.
However, it's important for brands to strategically think about the changes they are planning to roll out. While in many cases a new look can refresh the brand, it can also affect consumer perception and trust. For instance, some users cited the new Instagram logo as 'basic' and 'cheap,' which of course can lower brand value. In fact, Advertising Age published a poll asking users to vote which Instagram logo was better and 69 percent of the respondents preferred the original one. But once again, the main take away is that Instagram boosted their attention and awareness.
Things Are Getting Bubbly
While Instagram is making waves on the social network scene for their re-branding efforts, it should be noted they aren't the only ones trying to convince consumers to check them out. In a time when cola sales are dwindling, Coca-Cola is also on a path to re-branding themselves in an attempt to stay relevant and push soda sales. The company is rolling out newly designed labels on cans and bottles of Coke that follow their "One Brand" strategy.
The new designs aren't completely off-the-wall like Instagram's logo, but it's a noticeable change that might confuse consumers who are looking for a cold beverage in the coming months. For instance, majority of the cans and bottles will feature large red disks with a swoop of color (black, silver, green, etc.) to designate the specific flavor. Coke says it'll make it easier to tell the difference between the flavors but the dominating red disk in the design doesn't seem to follow their statement because it essentially blurs them all together.
Is Your Brand Evolving?
If your company is evolving, it could be a good time to re-brand yourself in order to meet your customer's expectations. Perhaps your company has grown to offer more services/products or you're doing things completely different than when you first opened your doors. Whatever the case may be, re-branding doesn't have to be a scary transition but you have to choose the right logo and branding services to see success. With that said, the branding professionals at Neff Associates can help you succeed!