MAGLIO SAUSAGE CO. OPENS THE MARKET AT MAGLIO'S!
Maglio Sausage Co., Philadelphia's favorite family-owned sausage purveyor since 1947, is diversifying with the opening of an Italian-specialty foods market on December 3rd. The Market at Maglio's will offer the full array of Maglio products, along with an assortment of prepared foods (think sausage and peppers better than Ma' makes), a sandwich bar, meats and cheeses, locally grown fresh produce and fine Italian products.
"The Maglio family is proud to expand our 67-year legacy while bringing jobs and foot traffic back to South Philly." says Anthony Maglio Jr., President of Maglio Sausage Co. "We are thrilled to offer top quality and affordable Italian products to the city of Philadelphia."
The opening celebration begins at 4:30pm with a ribbon cutting, introductions from the Maglio family, dignitaries and city officials. The public is invited to experience the new 1,500 square foot market while sampling a variety of Maglio sausages, cured meats, artisanal cheeses and fresh breads. The Market at Maglio's will offer a variety of delicious products, ranging from: fresh prepared meals such as sausage and peppers, eggplant and chicken parmigiana, to sweet and hot Italian sausage, strombolis, meatballs, and breakfast sausage.
Additionally, there will be a full Dietz & Watson deli counter, an expansive olive bar, an extensive range of Cento Fine Italian Foods, Citterio Italian specialty meats, fresh baked bread from Cacia's Bakery, seasonal items for the holidays and an assortment of classic Italian desserts like cakes, cannoli and cookies.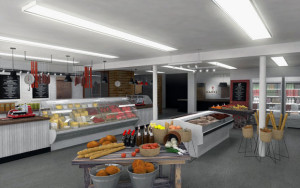 A hoagie station will offer a mouthwatering selection of sandwiches. The Market will also offer all the fixins', including potato salad, coleslaw and sparkling Italian sodas.  Guests are welcome to call ahead and order party trays for large groups or tailgating. For the more discerning customer, Anthony Maglio Jr. will be curating a collection of fine, high-end cheeses from around the world.
"We're looking forward to bringing new traditions, combined with our old family values, to the greater Philadelphia community," says Jerry McNelis III, COO of Maglio Sausage Co. and The Market at Maglio's.
Just down the street from Philly's stadiums in the heart of South Philly, The Market at Maglio's will be a prime destination for everything from tailgating needs to grocery shopping for the family. The market will be open Monday through Friday 8am-6pm, Saturday 8am-5pm, and Sunday 9am-3pm with early hours for home Eagles games. For more information, visit www.magliofoods.com or call 215-4MAGLIO. Make sure you follow us Twitter, Facebook, Instagram and Pinterest!