Neff Listed as Top Marketing Agency by Clutch in Pennsylvania
Our team here at Neff woke up to a thrilling announcement this morning! Neff listed as "Top Marketing Agency" by Clutch.co! Most successful businesses have opted for investment in B2B providers in recent years. To stay at the top of your industry, it is essential that you pick the best one. Clutch ranking us amongst 2020's top marketing agencies made our day!
"Neff has been in B2B marketing for over 30 years and has always strived to deliver compelling results for our clients. It is an honor to have our hard work recognized nationally by such an excellent organization like Clutch."
Clutch's office is a few steps away from the Washington Monument in the District of Columbia. In its offices, a team of analysts take the time to independently verify each and every review they conduct from clients around the globe. The clients with the highest ratings are included in their B2B guide of top providers. When you're looking to hire your next B2B service provider, Clutch.co is the premier ratings and review site.
Clutch's reputation makes us thrilled that we have an outstanding rating on their site. We are highlighted by The Manifest, their sister site, as a leader!
With our other perfect satisfied reviews, the B2B resource platform Clutch.co ranked us as one of the world's best marketing agencies for 2020! We're incredibly honored.
In a recent review, the co-founder of B. PHL Innovation Fest praised our social media marketing work!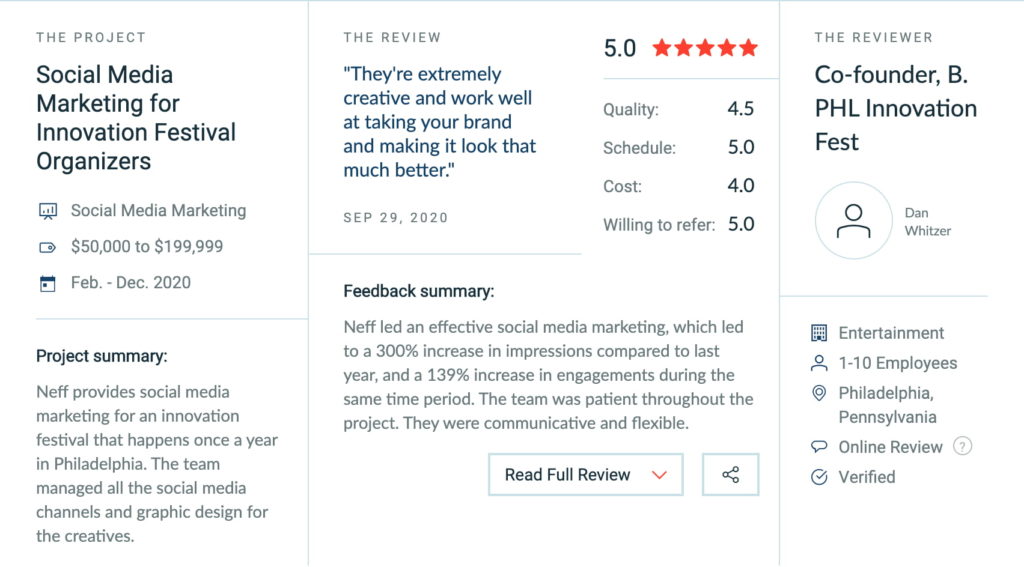 Thanks to our many satisfied customers for allowing Clutch to recognize us, if you want to join their ranks, reach out today!