Twitter Announces New Alerts System
Social media has become an increasingly popular source for information on the latest news. More so than ever people have been turning to their Facebook and Twitter feeds for the most up-to-date information on local and national happenings. While these social media outlets sometimes are not the most reliable sources of information, because of the freedom in posting, Twitter has taken action to make sure that users are supplied with accurate and credible information.
Last Wednesday, Mashable.com broke the news that Twitter will be unveiling a new emergency alert system. This will allow public institutions and non-government organizations to send out emergency alerts during a crisis to users who have signed up for the service. Notifications will be received via text message or push notification from whichever account the user desires. In addition, tweets that are considered to be alerts will be marked by an orange bell icon.
More than 70 companies with active twitter accounts have already signed up for this alert system, some of which include:
World Health Organization
FEMA
New York City Fire Department
New Jersey State Police
 Dispersing the most up-to-date information on news and where to get help from media outlets for tragedies like the Boston Bombings and Hurricane Sandy, Twitter has established itself as a reliable news source throughout the last year.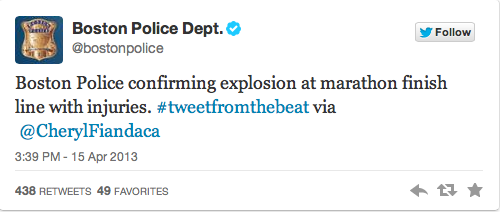 Taking this step in moving forward in its credibility, we will be seeing a lot more news worthy content via Twitter with this new feature.
Sources:
http://mashable.com/2013/09/25/twitter-alert-system/
http://thelede.blogs.nytimes.com/2012/11/02/how-government-officials-used-twitter-for-hurricane-sandy/?_r=0
http://www.huffingtonpost.com/2013/04/26/boston-police-twitter-marathon_n_3157472.html