Your Super Bowl Sunday Dominated by The Gaslight
Whether you plan on losing your voice cheering on your team or ranking your top ten commercials, The Gaslight has everything to satisfy your appetite on Super Bowl Sunday (February 1st)! Football fanatics will have the option of picking up party platters to-go, or enjoying the game on one of the restaurant's six LED flat screen televisions.
Avoid Super Bowl party clean up and hang out at The Gaslight! They encourage loud cheering, jersey-wearing, wing-eating fans of all ages. The popular 3×5 Happy Hour food and drink specials will be available for the duration of the game. Executive Chef Jason Cichonski's famous chicken wings, at $12 per pound, will also be served.
For those of you who will be celebrating America's favorite Sunday from your couch, Chef Cichonski has put together an extensive to-go menu. Each of these items are offered in half trays (serving ten people and ranging from $35-$85) or full trays (serving 20 people and ranging from $75-$125). Take your pick from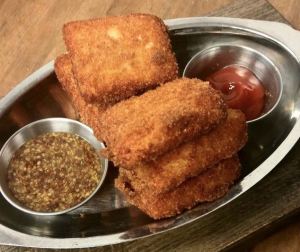 Chicken Wings: Old-school hot sauce or Chipotle BBQ served with celery, carrots and house-made buttermilk ranch (half, $55; full, $99)
Baked Truffled Mac n' Cheese (half, $45; full, $75)
Crudité including seasonal raw, pickled and marinated veggies (half, $35; full, $65)
South Philly-style roast pork sandwiches with broccoli rabe and sharp provolone (half, $85; full, $150)
Fresh baked pretzels with honey mustard and truffled cheddar dips (half, $45; full, $75)
Meatballs – Polish-style or Nonna's Old Italian variety (half, $75; full $125)
The Gaslight's signature chicken nuggets (half, $65; full, $110)
Looking for a little bit of everything? Choose The Spread for 10 ($230) or The Spread for 20 ($420). Each spread features: crudité, truffled mac n' cheese, wings, roast pork sandwiches and pretzels, with chicken nuggets added to the spread for 20.
The Gaslight will offer their normal Sunday Brunch from 11:00am to 3:00pm, but encourages reservations for game time, especially for larger groups. For orders please call The Gaslight at 215-925-7691 before 10:00am on Friday, January 30th. Each to-go item will come with heating instructions and can be picked up between 10:00am-5:00pm on Super Bowl Sunday.