We Showed Up
What do you do when 111.5 million people are relaxing at home, surrounded by family and friends watching you? The Cheesesteak Shuffle! As mentioned in our last post, the Super Bowl is a prime time for brands to strike it big with viewers and potential consumers.
Thanks to Geico, Geno's Steaks accomplished just that. The lip-lashing lizard…gecko, showed everyone at home his moves during the big game as he "shuffled" across a dining table outside of  one of Philadelphia's iconic cheesesteak spots: Geno's Steaks.
What does this mean? Like other brands who've had the opportunity of gracing the small screen (or big one) during Super Bowl XLVIII, potentially, a boost in online searches, product sales and visibility could result from a mere 30seconds of exposure.
Additionally, this kind of press presents another opportunity for brands and organizations to control the direction of conversation about their products, in order to capitalize from great coverage. How so? Geno's took to social media and jumped into the conversation shortly after. Word of mouth spreads fast and before you know it, everyone's talking steaks, Geno's and cheesesteak shuffle!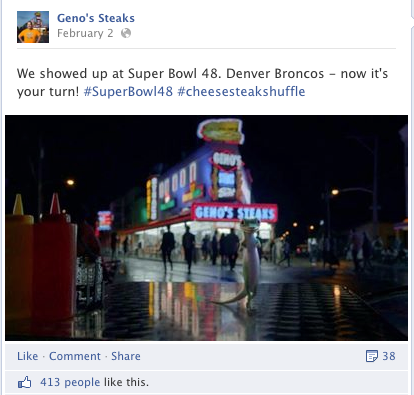 In case you missed it, we've got you covered. Check out the ad and let us know what you think. Way to go Geno's!
http://www.youtube.com/watch?v=WVFAJx9atNM
Can you cheesesteak shuffle?